Data Breach Attacks in Plastic Surgery
Posted on

November 1, 2017

in Blog
Data Breach Attacks in Plastic Surgery
Large business entities are usually the target of data breaches because of the amount of protected data that are stored on their private servers (see: Equifax Breach). Now cyber hackers are going after smaller entities for a quick money grab. A high profile London based Plastic Surgery Clinic was a target of a cyber attack last week. The attackers were hunting for patient information, photos and any other sensitive data that can be held for ransom. Now that Plastic Surgery Clinics may be under attack, ASPS published this special bulletin to educate its members on how to be proactive when securing your protected health information.

---
The M.E.D.X app is very popular in the plastic surgery space as more and more providers are looking for secure and efficient methods to communicate with their staff and patient base. Ed Pozza, MD et al. (2017) studied patient satisfaction with an early smartphone-based cosmetic surgery postoperative follow and discovered intriguing results. Pozza, MD et al. (2017) reported that 96.2% of patients that the smartphone dynamic improved the quality of their postoperative experience. The protocol also detected early complications in 3 cases and was treated prior to clinic follow up (ED Pozza, MD et al. 2017). This research highlights the evolving trends in medicine and its potential clinical relationship with patients via the smartphone.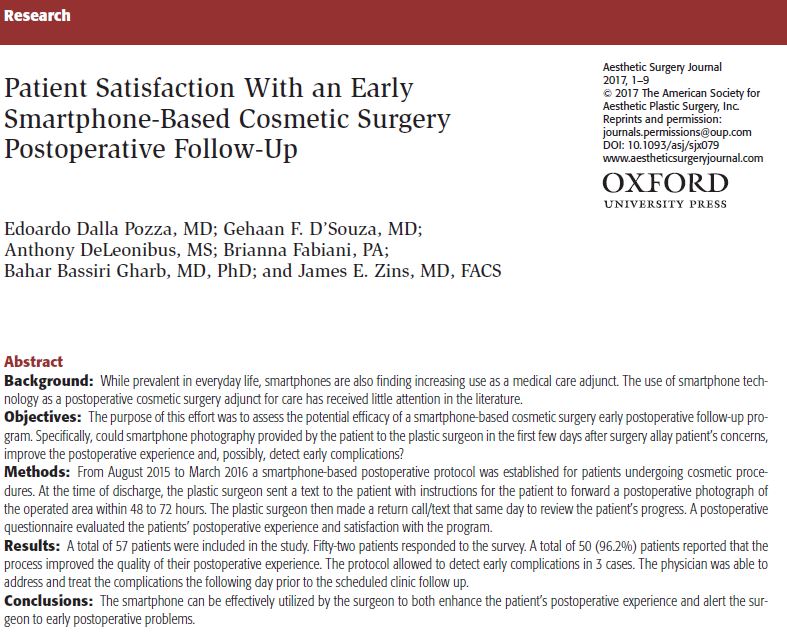 The M.E.D.X app provides a platform for providers and patients to communicate securely and privately to maintain efficacy of care without violating HIPAA regulations.
For more information regarding secure messaging between providers/staff and their patients, please contact us today at sales@medxssl.com or 1.888.799.MEDX!