BYOD: Where Are We Going?
Posted on

November 22, 2016

in Blog
BYOD: Where Are We Going?
Whether we are presenting at tradeshows or conducting educational seminars for medical societies, a common theme usually expressed from providers is that they do not want to be carrying TWO phones. These concerns have been supported by a 2013 Gartner Report study and the trend is only been increasing.
Bring Your Own Device (BYOD) is not a new concept for employers and employees, but as technology evolves, it is a concept garnering more attention. These days, the smartphone can be as useful as a laptop computer and able to keep employees connected from anywhere in a convenient way—making employees more willing to be accessible.
With these work productivity trends in mind, Citrix conducted a report regarding the modern workplace. Citrix discovered that employers and employees around the globe are benefitting from the BYOD movement. Results indicated that both the employer and employee side showed benefits:
Employers reported:
80% cost-related benefits
73% agile workplace
47% employee attraction
44% employee retention
36% better business continuity
---

Employees reported:
65% increased flexibility
62% increased productivity
61% reduced commuting time
55% better work/life balance
26% not having to work a standard 9-to-5
Citrix concluded that as the telecommuting trend continues to grow, allowing a BYOD environment is an important aspect of making your remote employees feel comfortable.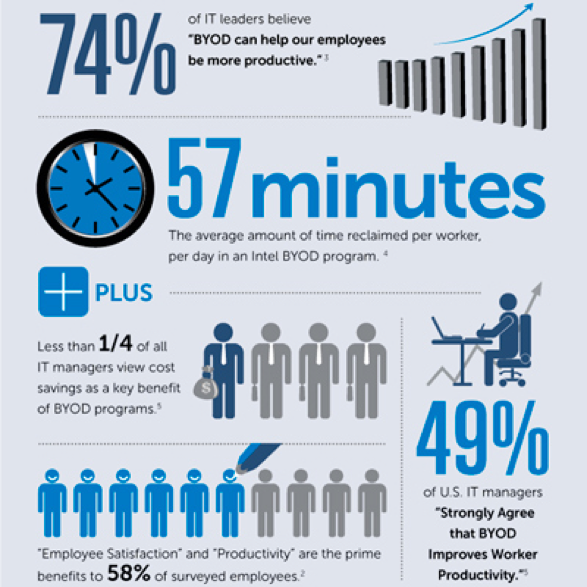 This study by Citrix really appealed to the founders of MEDX because it highlights the importance of a trend that can save costs and improve productivity. However, one point that is not addressed in the study is which apps are affective BYOD solutions. MEDX is an app that is natively coded high-quality bring your own device solution that is completely non-invasive to the end user (zero footprint technology). If you are looking to shore up your messaging, photo, video and document exchange via the smartphone of employees and have access/control of the data exchanged, contact us today to learn more!